Free download. Book file PDF easily for everyone and every device. You can download and read online Locus Magazine, Issue 617, June 2012 file PDF Book only if you are registered here. And also you can download or read online all Book PDF file that related with Locus Magazine, Issue 617, June 2012 book. Happy reading Locus Magazine, Issue 617, June 2012 Bookeveryone. Download file Free Book PDF Locus Magazine, Issue 617, June 2012 at Complete PDF Library. This Book have some digital formats such us :paperbook, ebook, kindle, epub, fb2 and another formats. Here is The CompletePDF Book Library. It's free to register here to get Book file PDF Locus Magazine, Issue 617, June 2012 Pocket Guide.
All issues have a list of the new books that month, a list of recommended books and bestsellers, and interviews with leading authors. For information about the parent company, Locus Science Fiction Foundation a c 3 nonprofit corporation , see www. Deadpool Steve Dustcircle. Uncanny Magazine Issue 1. Michael Damian Thomas. The Art of Storytelling.
Request Username
Amy E. A Short History of Fantasy. Farah Mendlesohn. Scott Robins. Joyce G.
Genetic Testing and Molecular Biomarkers | Vol 16, No 7.
Learning by Doing and the Locus of Innovative Capability in Biotechnology Research.
What Makes A Champion?.
Infinitas Bookshop - Locus June Magazine.
Locus 617 June 2012!
Bunny Bunny: Gilda Radner - A Sort of Love Story?
An Informal History of the Hugos. Jo Walton. Shelley Mosley. Uncanny Magazine Issue Lynne M. Get Those Guys Reading! Kathleen A. Wikipedia contributors. Michael Cart. The Modern Amazons.
ComicList: New Comic Book Releases List for 06/20/2012 (CSV)
James Ursini. Michael Pawuk. Blue Tyson. Resnick on the Loose.
Dealing with the Dragon - A Parable of Victory Over Pornography.
Nur der Himmel kann so grausam sein: Gesamtfassung (German Edition)!
Eating the Hole Thing - a Bad Penny Press sampler!
Change Password.
Love Isnt Supposed to Hurt.
The Watchful Tower;
ComicList: The World's Greatest Comic Book Shipping Information Website!;
Mike Resnick. Book Crush. Nancy Pearl.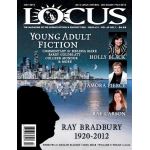 The Usual Path to Publication. Shannon Page. Now and Then We Time Travel. Fraser A. The Sci-Fi Movie Guide. Chris Barsanti. Gillian Engberg.
June 2012 Table of Contents
Jane Frank. Other Spaces, Other Times. Robert Silverberg. Ian Somerhalder. Suzan Ibryam. Michael Sullivan. James Gunn. Valerie Estelle Frankel.
News and Insights – Olephant Solicitors
Space Sirens, Scientists and Princesses. Dean Conrad. Horror Films by Subgenre. Chris Vander Kaay. Martin Weaver. Jeffrey Sosa. Scott Apel.
The Cannibal Warlords of Liberia (Full Length Documentary)
Debra Goodman. Locus Magazine, Issue , July Volume 29 Issue 1 January-February Volume 28 Issue 6 November-December Volume 28 Issue 5 September-October Volume 28 Issue 4 July-August Volume 28 Issue 3 May-June Volume 28 Issue 2 March-April Volume 28 Issue 1 January-February Volume 27 Issue 6 November-December Volume 27 Issue 5 September-October Volume 27 Issue 4 July-August Volume 27 Issue 3 May-June Volume 27 Issue 2 March-April Volume 27 Issue 1 January-February Volume 26 Issue 6 November-December Volume 26 Issue 5 September-October Volume 26 Issue 4 July-August Volume 26 Issue 3 May-June Volume 26 Issue 2 March-April Volume 26 Issue 1 January-February Volume 25 Issue 6 November-December Volume 25 Issue 5 September-October Volume 25 Issue 4 July-August Volume 25 Issue 3 May-June Volume 25 Issue 2 March-April Volume 25 Issue 1 January-February Volume 24 Issue 6 November-December Volume 24 Issue 5 September-October Volume 24 Issue 4 July-August Volume 24 Issue 3 May-June Volume 24 Issue 2 March-April Volume 24 Issue 1 January-February Volume 23 Issue 6 November-December Volume 23 Issue 5 September-October Volume 23 Issue 4 July-August Volume 23 Issue 3 May-June Volume 23 Issue 2 March-April Volume 23 Issue 1 January-February Volume 22 Issue 6 November-December Volume 22 Issue 5 September-October Volume 22 Issue 4 July-August Volume 22 Issue 3 May-June Volume 22 Issue 2 March-April Volume 22 Issue 1 January-February Volume 21 Issue 6 November-December Volume 21 Issue 5 September-October Volume 21 Issue 4 July-August Volume 21 Issue 3 May-June Volume 21 Issue 2 March-April Volume 21 Issue 1 January-February Volume 20 Issue 6 November-December Volume 20 Issue 5 September-October Volume 20 Issue 4 July-August Volume 20 Issue 3 May-June Volume 20 Issue 2 March-April Volume 20 Issue 1 January-February Volume 19 Issue 6 November-December Volume 19 Issue 5 September-October Volume 19 Issue 4 July-August Volume 19 Issue 3 May-June Volume 19 Issue 2 March-April Volume 19 Issue 1 January-February Volume 18 Issue 6 November-December Volume 18 Issue 5 September-October Volume 18 Issue 4 July-August Volume 18 Issue 3 May-June Volume 18 Issue 2 March-April Volume 18 Issue 1 January-February Volume 17 Issue 6 November-December Volume 17 Issue 5 September-October Volume 17 Issue 4 July-August Volume 17 Issue 3 May-June Volume 17 Issue 2 March-April Volume 17 Issue 1 January-February Volume 16 Issue 6 November-December Volume 16 Issue 5 September-October Volume 16 Issue 4 July-August Volume 16 Issue 3 May-June Volume 16 Issue 2 March-April Volume 16 Issue 1 January-February Volume 15 Issue 6 November-December Volume 15 Issue 5 September-October Volume 15 Issue 4 July-August Volume 15 Issue 3 May-June Volume 15 Issue 2 March-April Volume 15 Issue 1 January-February Volume 14 Issue 6 November-December Volume 14 Issue 5 September-October Volume 14 Issue 4 July-August Volume 14 Issue 3 May-June Volume 14 Issue 2 March-April Volume 14 Issue 1 January-February Volume 13 Issue 6 November-December Volume 13 Issue 5 September-October Volume 13 Issue 4 July-August Volume 13 Issue 3 May-June Volume 13 Issue 2 March-April Volume 13 Issue 1 January-February Volume 12 Issue 6 November-December Volume 12 Issue 5 September-October